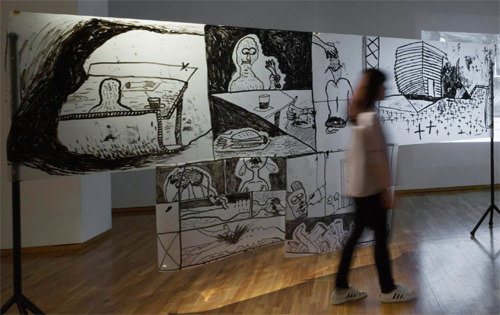 On a beautiful autumn day, one of the co-workers showed her bare face without any makeup in a black-and-white photography. Upon seeing the candid wrinkles in the picture, it seemed like to face the true nature of the drawing, which reveals the truth.
Drawing, a method of art usually expressing only with lines, without any color, was once not treated as the star of art back in the past. It was because of the idea that the drawings had to be colored afterwards in order to become a complete artwork. However, in the 1960s, the conceptual artists used drawings as a method to explain about their concepts, and the drawing has been recognized as an independent form of art.
"B-Cut Drawing" exhibition being held at Kumho Museum of Art in Jongno-gu, Seoul, has a purpose of contemplating on the aesthetic value and the present aspects of the drawing. The point is to study on the infinite potentials of the B-cut showing its bare form, unlike A-cut, which is finished smoothly with numerous retouching. Ten young Korean artists seek for the potentials of the expansion of the drawing at the exhibition.
Why does the drawing have to be two-dimensional? Artist Seo Jinnie expresses her childhood memories living in a traditional Korean housing with a three-dimensional drawing created with oiled paper. She cut the oiled paper, bent it and attached it on the wall.
Bek Hyun-jin sprayed the quote "how funny" reversed on a plywood on the wall of the exhibition hall, like doodling with a spray lacquer. Sim Rae-jeong drew her artwork in segmented cuts, like a cartoon, alluding the frustration of failing to prove one's existence to the "cannibalism" of a serial murderer. The exhibition, filled with sensation and grounds of the drawing, lasts until Dec. 31.
Sun-Mi Kim kimsunmi@donga.com