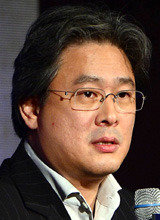 Korean director Park Chan-wook will direct a BBC drama. According to the Daily Mail, director Park will direct a BBC drama called "The Little Drummer Girl." British actress Florence Pugh, 21, will star as the show's heroine.
The upcoming BBC drama is a TV adaptation of British author John le Carre's spy novel "The Little Drummer Girl." It is a story about an English actress and double agent working for the Israelis in various places such as London, Munich and Vienna. The novel was also made into a film by director George Roy Hill in 1984.
Florence Pugh starred in "Lady Macbeth," which was featured in August, and won best actress awards at the Dublin International Film Festival and the Montclair Film Festival. "Pugh stood out the most among all other actresses I've met last year," said director Park.
Park Chan-wook's upcoming six-part drama series will begin early 2018, with the release date yet to be announced.
Yeun-Kyung Cho yunique@donga.com