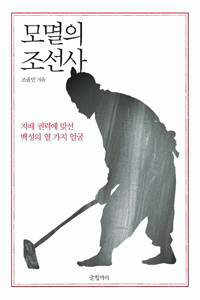 The media has depicted the people in the lower class in the Joseon Dynasty, such as slaves and commoners, as people who conform to the caste system and who are royal to their masters. But in reality, aristocrats in the Joseon Dynasty found it difficult to handle their slaves. For example, a slave who was sent to a village far away on an errand often ate the food that was given as a gift and lied he had lost it. Sometimes they feigned illness to take a rest. Their masters could not do much about it but secretly write in their diaries that they "hate and hate" the slaves. But when slaves died, their masters made a casket and held a nice funeral for them. This was because they had to be nice to them to make the best use of their workforce.
This book is the second installment of the four-part series of "The History of Joseon: Domination and Resistance." The author has been a TV documentary writer for some 20 years, writing famous programs such as "KBS Sunday Special" and EBS' "Travel into the History." While his book, "Two Faces of the History of Joseon" published last year, focused on the twofold ruling strategy of the ruling class, this book concentrates on the dynamics between the ruling class and the ordinary people.
According to the author, the ordinary people of Joseon normally conformed to the system and rules set by the ruling class, but sometimes collided with or disobeyed them. Their human instinct and the conditions and requirements necessary for their survival were expressed, directly or indirectly, to the ruling class. And the ruling class handled them with "virtue," which enabled the history to progress and develop. The ruling class could not get what they wanted only through violence and suppression.
The "Episode" section, in which the author uses his imagination to create stories based on historical records and academic materials, helps enhance readers' understanding. Through this section, readers will be able to look into the lives of ordinary people of Joseon, such as farmers, laborers, traveling entertainers, kisaeng and butchers.
Yeun-Kyung Cho yunique@donga.com