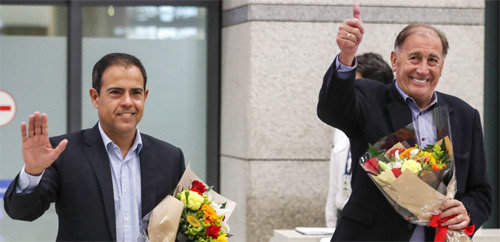 Two seasoned coaches from Spain, Tony Grande and Javier Miñano, who previously worked for Real Madrid, will join the Korean men's national football team led by head coach Shin Tae-yong. Their contracts will be valid until the end of the 2018 World Cup.
Grande is a player-turned-coach who played for Real Madrid as a midfielder from 1967. He returned to Real Madrid to start his career as a coach in the Real Madrid Juvenile Academy. Later from 1997 to 2003 and 2006 to 2007, he worked as a first-team assistant for Real Madrid under renowned coaches, such as Fabio Capello, Guus Hiddink and John Toshack, and won three UEFA Champions League titles in 1998, 2000 and 2002. From 2008 to 2016, he served as an assistant coach of the Spanish national football team under Vicente del Bosque and won the 2010 FIFA World Cup South Africa and the 2012 UEFA European Championship.
The 70-year-old veteran coach has a rare experience of winning the Spanish Primera División, the UEFA Champions League, the European Championship and the World Cup. An official from the Korean Football Association said, "In terms of career, he is one of the best among the coaches who ever worked for national football teams in Asia."
Meanwhile, Miñano started his career in the Spanish football club Atlético Madrid as a fitness coach. He worked with Grande for Real Madrid and the Spanish national football team. Grande and Miñano have very close friendship. When Grande left Real Madrid in 2004 for a Turkish club, Miñano followed him to work in the same team.
Seung-Kun Lee why@donga.com