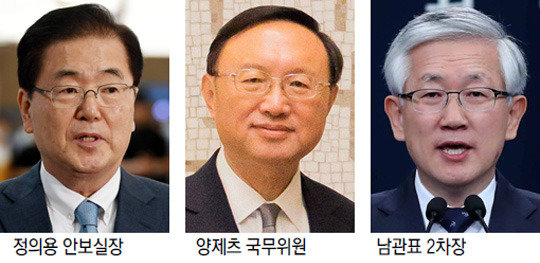 On July 6, after Korean President Moon Jae-in and his Chinese counterpart Xi Jinping sat down for their first bilateral summit in Berlin, Germany, Chung Eui-yong, the head of the National Security Office at the presidential office Cheong Wa Dae, and Yang Jiechi, China's top diplomat, met in utmost secrecy.
In the following 90-minute-long meeting, the two foreign policy chiefs had an intense argument over the deployment of the Terminal High Altitude Area Defense (THAAD) system in Korea, which had triggered a diplomatic row between the two neighbors. Their July meeting did not yield any immediate breakthrough, but was the start of bilateral efforts to come up with an agreement to improve South Korea-China relations Tuesday.
"Chung stressed the importance of 'mutual trust' between South Korea and China during the meeting, and the two had continued to have discussion since July to gain a foothold for restoring trust, leading to the announcement of an argument," said diplomatic sources. Chung and Yang had reportedly narrowed their differences gradually through continued discussion on a hotline, and agreed to "announce a joint statement and move forward to the next step."
Some point to the possible shrinking of a role to be played by the Ministry of Foreign Affairs as Chung and Nam Kwan-pyo, the deputy head of the National Security Office, have been taking active parts in discussions with China. "Cheong Wa Dae led the effort simply because we needed a line to directly report to both nations' leaders, and we did not have any intention to exclude the Ministry of Foreign Affairs," clarified an official from Cheong Wa Dae.
Sang-Jun Han alwaysj@donga.com