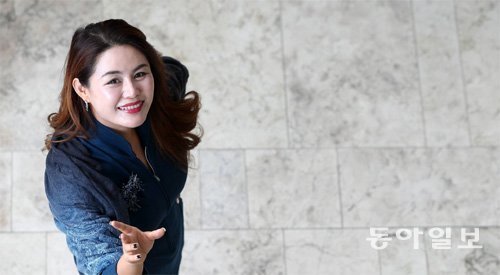 Soprano Kang Hye-myung sat down at a café in Jongno District, Seoul, for an interview with the Dong-A Ilbo last Thursday. She is scheduled to perform "Don Giovanni," an opera held to celebrate the 10th anniversary of the establishment of La Bella Opera in Korea. The performance will boast a stellar lineup of world-renowned musicians, including opera director Hans-Joachim Frey, conductor
Yang Jin-mo, Gyeonggi Philharmonic Orchestra, baritone Kim Jong-pyo and Woo Kyung-sik, soprano Park Ha-na and tenor Lee Hyun-jae at the Opera Theater of the Seoul Arts Center from Nov.17 to 19.
Korean fans are looking forward to seeing Kang perform all the more because she already played the main character of Don Giovanni, Donna Anna, in September for a performance marking the first anniversary of the opening of Dubai Opera as the only Korean vocalist in the piece. She also collaborated with world-renowned tenor Plácido Domingo at his performance in Korea last year.
The list of prominent musicians with whom she has collaborated does not stop with Chung Myung-whun and Domingo but goes on with baritone Thomas Hampson, soprano Jo Sumi, Renee Fleming and conductor Michel Plasson. She had kept herself busy in France since 2004, and came back to Korea in 2010. "Many think there would be less racial discrimination in France compared to Italy or Germany, but there certainly was an unseen wall," the Korean soprano said. "I felt as if there were limitations to what I could achieve as an Asian vocalist."
Lately, the 39-year-old vocalist has been enjoying her second prime. She acted the main role of "Madama Butterfly," the opening opera of the Taormina Opera Festival 2016, which was live broadcast across all theaters in Europe, and will also take the lead role of Violetta in "La Traviata" at two of Italy's representative theaters, the Theater of San Carlo Opera House in Naples and the Theater of Trieste Verdi Opera House. Her taking the role of Violetta is a testimony to the truthful recognition of her talent as the role has been customarily taken by vocalists from Western countries almost exclusively.
"For the last five years I've been in Korea, I've developed such a strong thirst for opera. Now each and every opportunity I'm coming to stumble upon feels just so precious," said Kang. "Senior vocalists often say that singers have their best days in their 40s, and I think I'm going to have my own in my 40s as well."
Dong-Wook Kim creating@donga.com