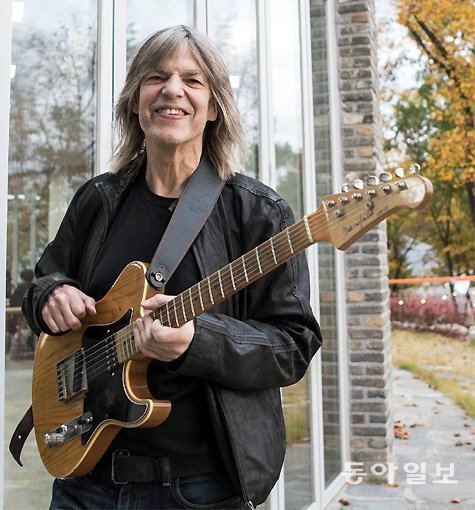 Mike Stern (64) is a world-renowned guitarist who worked with fellow guitarists Miles Davis and Jaco Pastorius and laid the foundation for jazz fusion, blurring the boundary of rock and jazz.
In July last year, Stern had an unexpected accident. He tripped over some materials from a construction site on the street while he was crossing the road near his house in Manhattan, New York. He touched the ground with his elbows, which left him with broken shoulders. What he asked the first thing in the emergency wing was, "Are my hands okay? I am a guitarist." A few days after, a fatal neural damage was found in his right arm.
He had a major surgical operation, which orthopedic screws were implanted on his arms. There was a chance he had to give up playing the guitar forever. He wanted to give up, but he could not. Music was his everything.
Fortunately, he was able to play again thanks to doctors' devoted care and his determined rehabilitation training. However, not everything was back to normal. His fingers were not strong enough to hold a pick for long. He applied glue for wig on his hands and attached double-sided adhesive tape on the pick. The pick stayed on his hands, but there was a pain for every tune he played.
He invited other musicians to his studio as he was able to play again. Dennis Chambers, Victor Wooten, Randy Brecker, Dave Weckl and other renowned artists visited him half in doubt. That is how he completed his recently-released 17th solo album "Trip." The definition of trip includes "stumbling," other than a "journey." Some of the songs in his album are titled "Screw" and "Scotch Tape and Glue."
Most of the audiences who watched Stern's finale performance in the Jarasum International Jazz Festival held in Gapyeong, Gyeonggi Province on last Sunday did not know about this, because he performed with an explosive energy as if nothing ever happened to him. However, a pick was attached to his right hand with tape and glue and he needed help to put his guitar on his shoulder.
Stern offered a handshake when he met this reporter before his performance. His knuckles were all bent in 90 degrees. When I hesitated to hold his hand, he said, "It's okay," with a big smile on his face.
Stern's daily life has changed after the accident. He spends all day for rehabilitation, repeating physical therapy, swimming and stretching. He spends the rest of his time playing the guitar and writing songs. When asked if he ever suffered a depression, he said, "My life has always been gloomy. I was addicted to drugs and lost friends because of that. My wife is a breast cancer survivor. But I have music. I forget pain and even myself when I listen to music or play the guitar."
There is something he tells students who get depressed for their lack of talent. "Practice. Just for two hours. Get depressed after that," he said. "Music is like flowers. I feel like something blooms in me when I put my passion in music and wait for the result."
"No one can take your dreams away if you never give up," he said, smiling and holding out his right hand with bent knuckles to say goodbye.
imi@donga.com