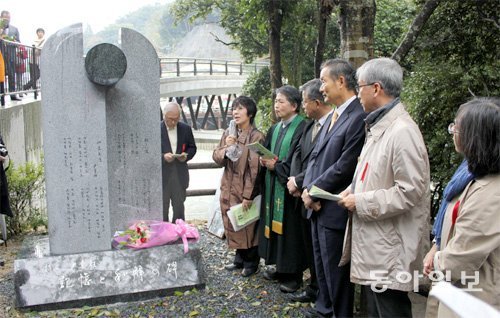 "We are here together to remember the absurd history that we committed in the past. Let us look at the sky and think about poet Yun Dong-ju, who looked at the heaven above until the day he died."
At 11 a.m. on Saturday, around 150 citizens, who gathered at the Uiji riverside, Uji, Kyoto, Japan, looked up into the sky as Pastor Hayase Gasuto at Uji Church finished his words. Professor Yun In-seok of Sungkyunkwan University continued by reading aloud the poem "New Road" encrypted on the memorial monument.
At this place, the unveiling ceremony for "Memorial Monument of Poet Yun Dong-ju's Memory and Reconciliation" was held. This memorial monument was established in commemoration of the poet's 100th birthday and it is the third one to be built in Japan. The monument, which is 2 meters in height and 1.4 meters in width, was created in a form where two granite columns, which stand for Japan and the Korean Peninsula, supports a circular cylinder, symbolizing Poet Yun Dong-ju. "My uncle (Yun Dong-ju) would be delighted to see this memorial monument being built at this meaningful place," said Professor Yun.
"I am pleased to be able to establish a monument at a place where the poet spent his ravishing moments of youth," said President Anjai Ikuro of the Committee of Establishing a Memorial Monument for Poet Yun Dong-ju. Baek Yeong-seo, the dean of Yonsei University's School of Liberal Arts, participated at the unveiling ceremony, representing Yonsei University, which is the university Poet Yun Dong-ju's studied, also said, "It is deeply inspiring."
Currently, there are memorial monuments in Doshisha University in Kyoto, where Poet Yun used to study, and where there used to be a boarding house (nowadays the Kyoto University of Art and Design). It is known that more than 20,000 Koreans visit the Doshisha University to see the memorial monument. The Uiji monument, is the first of its kind to be built in a place other than a university.
Won-Jae Jang peacechaos@donga.com