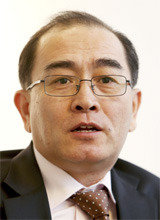 Thae Yong-ho, North Korea's former deputy ambassador in London, is facing a U.S. Congress hearing. After defecting from North Korea, Thae's first foreign visit will be the U.S Congress to testify before U.S. lawmakers who are trying to curb funding sources for the North.
Ed Royce, Republican from California and the chairman of the U.S. House Foreign Affairs Committee, said Thursday that a hearing, titled "An Insider's Look at the North Korean Regime," will be held on Wednesday (local time) with participation by Thae. This will be the first visit to the United States and appearance to the public by Thae, who defected from the North in 2016, since South Korean President Moon Jae-in took the office.
As Thae knows much about how North Korea's foreign officials raise foreign currency and avoid sanction measures, he is expected to support the U.S. Congress' legislative efforts to cut off the North's funding sources for nuclear and missile development and share stories of human rights violation by the North.
Yong Park parky@donga.com