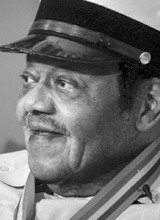 American Rock and Roll pioneer Fats Domino (full name: Antoine Dominique Domino Jr.) passed away at 89 on Tuesday (local time) at his home in Louisiana from natural causes.
Born to a family of French creole background in 1928 in New Orleans, the legendary rock and roll singer started performing at bars since he was a teenager. His nickname came from his large build. He is known to have built the framework of early rock and roll in the 1950s.
In the 1950s and 60s, he became Elvis Presley's biggest rival. Both Presley and the Beatles acknowledged his influence on their early music. Fats Domino was the first African American musician to have large crowd of Caucasian fans.
More than 100 million albums have been sold, and his hit songs include "Blueberry Hill" and "Ain't That a Shame." In 1986, he was inducted in the Rock and Roll Hall of Fame and won the Grammy Lifetime Achievement Award.
imi@donga.com