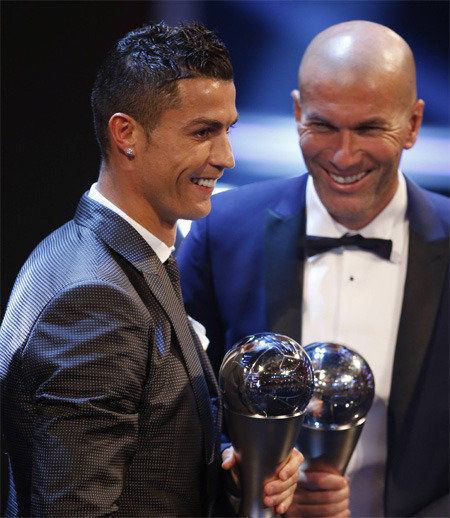 Cristiano Ronaldo, Real Madrid's scoring machine, has won the Best FIFA Men's Player Award for the second consecutive year.
The Best FIFA Football Awards, now in its second year, was newly introduced last year by FIFA as "France Football," which temporarily merged with FIFA from 2010 to 2015 to create "FIFA Ballon d'Or" awards, ended its partnership with FIFA in 2016 and reversed back to Ballon d'Or awards.
The Real Madrid superstar gained 43.16 percent of the votes from coaches and captains of the national teams around the world, overtaking Barcelona's forward Lionel Messi with 19.25 percent and Paris St Germain's forward Neymar with 6.97 percent. Ronaldo led his team to win the championship titles last season at the Spanish Primera Division and the UEFA Champions League, scoring 25 goals and 12 goals, respectively.
"I want to mention Leo and Neymar to be here. Real Madrid supporters, my teammates, my coach, they support all the year so I have to say thank you to them," Ronaldo said while accepting the award.
According to the voting results released by the FIFA (voters are allowed to pick three players), Korean national football team manager Shin Tae-yong chose Messi and captain Ki Sung-yueng picked Ronald as their first choice. Meanwhile, Real Madrid coach Zinedine Zidane has won the Best Male Coach Award.
Yun-Cheol Jeong trigger@donga.com