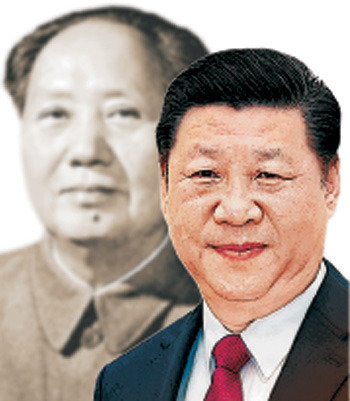 China's ruling Communist Party added President Xi Jinping's name and ideology called "Xi Jinping Thought" into the party's constitution (or charter) on Tuesday. The symbolic decision puts President Xi on par with Mao Zedong, the only former leader of the country who has been honored in such a way while still alive. With his "thought to build a strong army" also added to the constitution, Mr. Xi is well positioned to have a greater clout as an absolute leader all across the party, the government and the military.
At the closing ceremony of the 19th party congress at the Great Hall of the People in Beijing on Tuesday, the congress's 2,336 delegates unanimously agreed to amend the constitution to add "Xi Jinping Thought for the New Era of Socialism with Chinese Special Characteristics," in a historic move that includes "Xi Jinping Thought" in the constitution's list of fundamental doctrines such as Mao Zedong Thought, Deng Xiaoping Theory, Three Represents Theory and Science Approach to Development. Mr. Xi's two most recent predecessors, the former presidents Jiang Zemin and Hu Jintao did not get their names attached to the theories of the doctrines. The amendment also states that the Xi Jinping Thought "must be continuously kept and developed as a long-term objective," hinting at Mr. Xi's prolonged grip of power.
Also included in the amended constitution is a statement that "the Communist Party holds absolute leadership over the People's Liberation Army and maintains the strong army thought of Xi Jinping." Mr. Xi's control over the party, the government and the military seems to only grow as he also chairs the Central Military Commission, which states that the chairman has overall responsibility for the commission. In addition, his signature "One Belt, One Road" initiative (The Silk Road Economic Belt and the 21st-century Maritime Silk Road) also won a mention in the constitution.
Wan-Jun Yun zeitung@donga.com