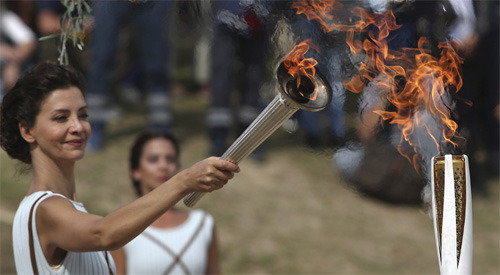 The Torch Relay of the 2018 PyeongChang Winter Olympics with a slogan "Let Everyone Shine," which signifies Pyeongchang's hopes of bringing peace and joy to the world through sport, begins on Tuesday in Olympia, home of the ancient Games in Greece.
The lighting ceremony will take place at the ancient temple of Hera in Olympia at Tuesday noon local time (6 p.m. Korea time), and Greek actress Katerina Lehou will light a torch as High Priestess by the rays of the sun using a parabolic mirror.
As is the tradition, the first torchbearer will be an athlete from Greece, cross-country skier Apostolos Angelis. Korea's legendary football player Park Ji-sung, an Honorary Ambassador of the 2018 Olympic Winter Games, will be the second torch bearer and the first Korean who takes the flame.
The lighting ceremony will be attended by Thomas Bach, president of the International Olympic Committee (IOC), and the Korean delegation comprised of 16 persons including Prime Minister Lee Nak-yeon, Roh Tae-kang, vice minister of Culture, Sports and Tourism, Lee Hee-beom, president of the PyeongChang Organizing Committee, Ryu Seung-min, a member of IOC Athletes' Commission, and Park Ji-sung.
Starting on Tuesday, the flame will take a tour of Greece over the following week, and will be handed over to the PyeongChang 2018 Organizing Committee next Tuesday at the Panathenaic Stadium, where the first modern Olympics were hosted. Then the torch will fly its way east, arriving in the Korean city of Incheon next Wednesday to coincide with 100 days to go until the start of the 2018 PyeongChang Winter Olympics.
For the following 101 days, the symbol of Olympism, which steps on the Korean soil for the first time in 30 years since the 1998 Summer Olympics held in Seoul, will travel all over the country covering 2,018 kilometers and having 7,500 torchbearers, which symbolize the population of the Korean Peninsula of 75 million. Thereafter the flame will finally arrive at the PyeongChang Olympic Stadium in time for the opening ceremony on Feb. 9 next year.
Jong-Seok Kim kjs0123@donga.com · Keun-Hyung Yoo noel@donga.com