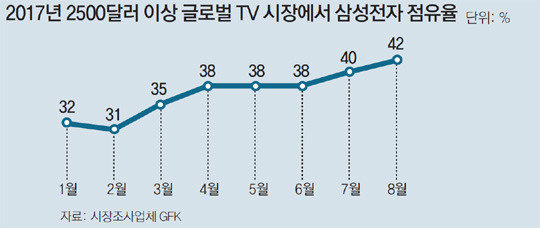 Samsung Electronics' premium TV brand QLED TV has expanded to account for 10 percent of the total TV sales after its launch, raising hopes that its profitability from its TV business will improve in the fourth quarter.
In a meeting held Friday at the headquarters in central Seoul, Samsung Electronics said most of TV sets sold in the third quarter were ultra-high definition (UHD) products and premium QLED TVs made up 10 percent of its total sales. The company indicated that it aims to accelerate its premium strategy to keep the lead in the UHD and large-sized TV market.
The share of the large-sized TV market is a matter of grave concern for the world's major home appliances makers such as Samsung Electronics and LG Electronics Inc. As the TV market growth has been stagnant since 2011, premium products of the large screen market have been emerging as a new revenue generator. The share of 55-inch and larger products has increased from 25 percent in 2014 to 41 percent this year.
Samsung Electronics believes the strategy focusing on selling premium products, rather than reducing the proportion of low-priced products, has proven effective, and it plans to further strengthen its focus on the premium market.
"Although the global TV market has remained at the same level as 220 million units for the past three years, we are seeing a steady growth of the large-sized TV market over 55-inch screens," said Lee yoon, executive director of Samsung Electronics' video display division. "We believe QLED is a better technology for offering customer value."
Thanks to robust performance in the premium market, South Korea's technology giant expects the earnings of the consumer electronics division, including the TV business, to improve in the fourth quarter. "As QLED has been introduced in earnest since April and large-sized TVs with 75-inch and 80-inch screens have also been launched, the share in the premium market is steadily rising," said Lee. "It is difficult to give specific figures, we will be able to deliver good results (in the TV business) by the end of this year."
Jae-Hee Kim jetti@donga.com