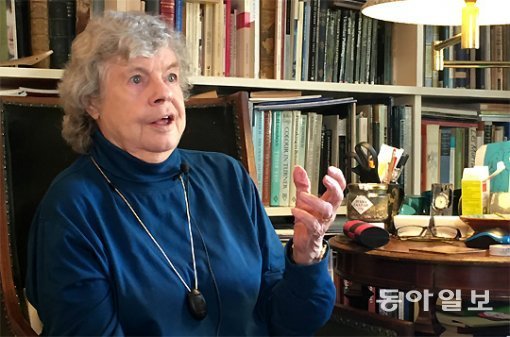 When I arrived at Rusholme on the outskirts of London on October 7, I found it to be a quaint neighborhood lined with quintessential British brick houses. As I opened the gate, my eye caught Antonia Susan Byatt (aged 81), the winner of the seventh Park Kyong-ni Prize, sitting by a window on the first floor.
Byatt, who also won the Man Booker Prize for her novel "Possession" in 1990, has been chosen by Time magazine as one of the 50 greatest writers since the second world war. I opened the interview by asking, "How do you distinguish good books from bad books?"
"Bad books are no different from other books, while good books make you discover something new," she defined, adding that good books take advantage of the features of the language, because language is a unique characteristic unique to humans. "Monkeys can understand the human language, but they cannot speak it," she said. "Every summer, I visit my house in the countryside in France. During my stay there for a couple of months, I discover that when I think in French, I find myself articulating thoughts that are completely different from what I think in English."
How did she manage to bring up four children, write and keep a teaching career? When asked about how she raised her children, the great British writer shook her head.
"I recall stirring soup on the stove with one hand, with a book in the other. It was impossible to handle without extreme concentration. I was used to sleeping late, but it was grueling to wake up early in the morning," she said. "I never wrote on the weekends, because it was time dedicated to my children. I am proud of what I did."
Ever since she wrote her first novel in 1964 when she was in her 20s, Byatt has kept writing. "Writing is still very difficult, in a different kind of way from what I experienced in my 20s," she said. "When I fall into a slump while writing, I try to overcome by writing a different story or reading books."
Winning the Park Kyong-ni Prize became an opportunity for her to become familiar with the author the prize was named after. She is currently reading novels by the Korean writer. "Her books have opened a new world to me, which I enjoy. I will let you know how it goes after six months," she said with a bright smile.
The Park Kyong-ni Prize Award Ceremony will take place 4 p.m. next Saturday at the Toji Cultural Center in Wonju City of Gangwon Province. Martin Fryer, head of the British Council in Korea, will represent Byatt at the ceremony.
Jung-Min Dong ditto@donga.com