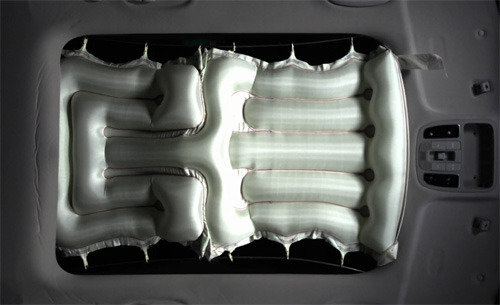 Hyundai Mobis Co. has developed an air bag system for sunroof for the first time in the automobile industry, the company said Wednesday. South Korea's largest auto parts maker by sales said Wednesday that the air bag system is designed to prevent passengers from getting ejected through the roof in rollover accidents.
The company claimed that it has developed the technology for mass producing the "panoramic sunroof air bag system" by completing the reliability tests. There is no precedent globally at the moment for applying panoramic sunroof airbags on vehicles yet. Hyundai Mobis, which first started mass producing air bags in 2002, has beat competitors in developing a new air bag technology, the company stated.
The panoramic sunroof air bag system is installed in the back of a vehicle. In the event of a vehicle rollover, the air bag's sensor will detect it and get deployed in just 0.08 second to cover the sunroof to protect the passengers – a mechanism similar to curtain air bags that are deployed in the event of a lateral collision.
"When we made a presentation on the panoramic sunroof technology at a vehicle safety forum held in the United States in June, officials from the U.S. road safety agencies and relevant industries showed great interest," a Hyundai Mobis official said. "We plan to focus our marketing efforts for the new system on premium sports utility vehicles."
Dong-Il Seo dong@donga.com