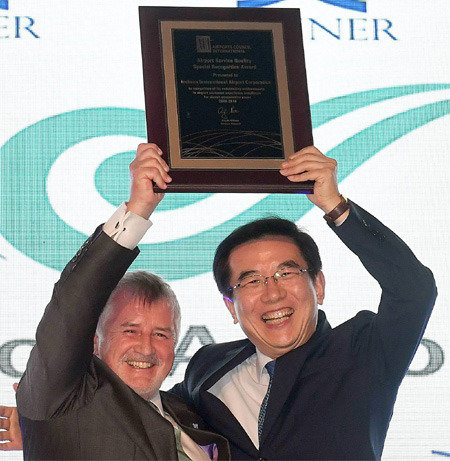 Incheon International Airport has been recognized by the Airport Council International (ACI) as the world's top airport, according to Airport Service Quality survey. At the annual Airport Service Quality Awards (ASQ) Ceremony held in Port Louis, Mauritius, Incheon airport attained first place beating 284 airports around the world. The second place title was shared among Mumbai Airport, Delhi Airport of India and Changi Airport of Singapore.
Last year, ACI surveyed 350,000 airport passengers across the world to rate airport service satisfaction across 34 key service areas, including service and facility operation. Incheon International Airport was rated 4.99 out of a perfect score of 5 points. "Since its opening in 2001, Incheon airport has seen annual passenger growth of 6.7 percent every year, rapidly establishing itself as the hub airport of Northeast Asia," said ACI World Director General Angela Gittens. Given the first airport to win the ASQ Awards for 12 consecutive years, Incheon airport was also awarded the Special Recognition World.
After the awarding ceremony, The Dong-A Ilbo interviewed Incheon International Airport Corp. CEO Chung Il-young to seek his thoughts and tips for success, as well as future airport operation plans.
What's the significance of winning the ASQ title for 12 consecutive years?
"ASQ is the outcome of ACI, whose membership encompasses about 1,800 airports around the world, conducting in-depth interviews of airport passengers. Renowned for its authority and credibility, ACI awards are known as the Nobel Prize of the airport industry. Given its strict assessment standards and strong competition for the award, maintaining No. 1 title for 12 years is a truly amazing achievement. Incheon International Airport has become a global brand, recognized by any country that has an international airport."
What's the secret behind the success?
"After dealing with the confusion in the baggage handling system and illegal entry events last year, Incheon International Airport drew up a comprehensive plan to improve its services and revamped its operation. We launched mobile check-in counters, increased the number of security check points to facilitate passport control. More facilities have been built for better convenience, such as larger and more duty free pick up centers. We have expanded parking facilities and means of public transportation and introduced more efficient airport guidance service. As a result, 57.76 million passengers used Incheon airport last year, a 17.2 percent increase from the previous year. This is the achievement of service innovation propelled by 50,000 of our airport staff, including our employees, resident organizations and contracting partners."
What kind of changes will take place when the new terminal opens?
"When the new terminal opens, the passenger load will even out and more waiting space will be provided, so the airport will no longer be crowded. This also means more convenient service for our passengers. Currently it takes more than 40 minutes to go through departure at Terminal 1, but the time will be reduced to around 20 minutes at both terminals. Passengers will be able to easily access buses and trains at the Traffic Center, which is located on the underground floor of Terminal 2. Duty free stores and commercial facilities will be relocated at the center of the building, making shopping more convenient. Terminal 2 will pave way for more passengers to visit the airport, and we predict the number of passengers each year will increase to 72 million. We plan to leverage this opportunity to establish ourselves as the most convenient and safest airport in the world."
What are your goals for the future?
"My goal is to promote Incheon International Airport to become one of the top 5 best international airports and top 10 transfer airports by 2020. We will strengthen competitiveness by focusing on passenger and logistics marketing and create a new business model to become a leading global hub."
Kum-Chun Hwang kchwang@donga.com