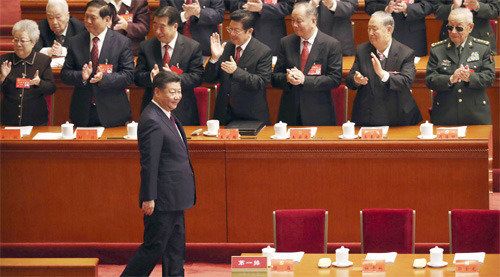 During the 19th National Congress of the Communist Party of China on Wednesday where the Chinese leadership presents its national and foreign policy approaches for the second term of Chinese President Xi Jinping, Xi said, "No country can afford to retreat into self-isolation." Xi was not referring to the Korean Peninsula or North Korea directly, but he seemed to regard North Korea that is not stopping provocation while being isolated from the international community.
While China's foreign policy for the next term was being presented during the opening of the Communist Party Congress in Beijing, Xi said, "The instability and uncertainty that the world faces become more visible. Regional conflicts are occurring continuously in many places. No country alone can address the many challenges facing mankind."
Xi announced his two-phased national development strategy as a blue print for his second term. During the first phase of development, Xi aims at prosperity of every citizen until 2020 and modernization of socialism until 2025. As for the second phase of development, Xi said he would make China as a strong and modernized nation of prosperous democratic culture and harmonious and graceful socialism between 2035 and the middle of the 21th Century. "National defense and military forces will be modernized by 2035 and China will nurture one of the strongest and advanced military forces in the world by the middle of the 21th Century," said Xi. Speaking about plans for 2022 and beyond after his second term ends, Xi seems to consider seizing power much longer.
Xi talked about concentration of power by saying, "The whole party should obey the leadership and follow guidance by the leadership harmoniously." He branded his philosophy as "socialism with Chinese characteristics for a new era."
Wan-Jun Yun zeitung@donga.com