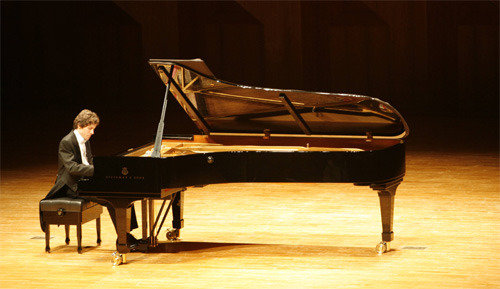 After the Chuseok holidays, two classical concerts, which made the fans of classical music excited, have finally taken the stage. One was the concert of the Lucerne Festival Orchestra conducted by Riccardo Chailly, which took place on Thursday at Lotte Concert Hall in Seoul, and the other was pianist Rafal Blechacz's concert at Seoul Arts Center Concert Hall on Saturday. Both concerts took place in Korea for the first time ever.
The Lucerne Festival Orchestra's choice for the opening of the concert was Egmont Overture Op. 84 by Beethoven. It's a short music with the duration of eight minutes, but it was enough to make the audience have anticipations for the concert like an appetizer of a course meal, featuring amazing balance within the groups of musical instruments.
Staring with Beethoven's Symphony No. 8 in F Major, Op. 93, the Lucerne Festival Orchestra demonstrated its strong point. Although it is not a permanently established orchestra, but the musicians did not lose harmony while showing off their uniqueness. They truly deserved the nickname of "The Dream Team of Orchestra."
When playing Stravinsky's "Le Sacre du Printemps," the orchestra filled the concert hall with the musical notes, yet did not overdo it. Since it is an avant-garde music, it can be boring, but the colorful and profound performance made the audience curious about the following parts.
Polish classical pianist Blechacz performed Bach's four duets on the first half of the concert, continuing with Beethoven's Piano Sonata No. 3, and in the second half, he played Nocturnes, Fantasia and Sonata No. 2 by Chopin. He played Bach like warming up his fingers, and he played Sonata for the Beethoven section, which seemed like an extension of Bach. It was a well-polished, sophisticated performance, but each of the notes fell apart, making it sound tedious.
Blechacz's performance of Chopin allowed the audience to see why he was called the "Chopin Specialist." Watching him performing Chopin with his own unique color seemed like watching a top class chef cooking with his own recipe. Especially an Intermezzo by Brahms, the encore, was a "game changer" that enabled the audience to enjoy his Chopin performance once more.
Dong-Wook Kim creating@donga.com