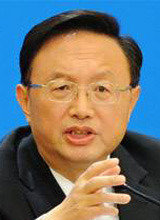 Amidst intense conflicts with the United States in several corners of the world, namely the Korean Peninsula and the South China Sea, China reportedly plans to reintroduce a vice-premier for foreign affairs at the 19th National Congress of the Communist Party, which begins on Wednesday. While in the United States, the Secretary of State who oversees foreign affairs serves as a senior cabinet member, China's top diplomat, State Councilor, does not hold a seat on the 25-member Politburo, which has drawn criticism that foreign diplomacy has been belittled in the country's policy structure.
The Politburo is the principal policymaking committee of the Communist Party consisting of 25 members including seven members of the Standing Committee, the top decision-making body.
Hong Kong's South China Morning Post reported on Monday that China's State Councilor Yang Jiechi, the country's top-ranking diplomat, can be elevated to the Politburo and appointed as a vice-premier at the 19th National Congress. If promoted, he will be the fifth vice-premier and the first vice-premier for foreign affairs.
Elevating the formal head of the foreign policy establishment to the Politburo would be a sign that President Xi Jinping who is set to be handed a second term is placing a greater emphasis on diplomacy, according to the newspaper. Also, regaining a vice-premiership for foreign affairs would be based on Beijing's recognition of circumstances such as rising tensions due to North Korea's nuclear development, U.S. President Donald Trump's repeated attacks on Beijing's trade policies, and China's increased prominence as a major international power.
Yang Jiechi, who also served as Chinese Ambassador to the United States, has extensive experience in dealing with Washington as evidenced by his personal connections with the family of former U.S. Presidents George H.W. Bush and George W. Bush.
Ja-Ryong Koo bonhong@donga.com