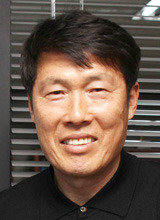 Cha Bum-kun, a former manager of Korean National Football Team, has been selected as the first Sports Hero of Korea among the soccer players and leaders.
The Korean Sport and Olympic Committee announced Monday that they selected Cha, the legend of Bundesliga and the greatest soccer player in the history of Asia's soccer, as the honoree of 2017. Cha will be honored into the "Hall of Fame" through the honoring ceremony scheduled to take place at Seoul Olympic Parktel on Nov. 29.
Cha hold the record of playing in most games of the A matches (136 games) and scoring the most goals (59 goals) during his career as a player. From 1978 to 1989, he scored 98 goals in 308 games of Bundesliga.
The Sports Heroes of Korea include the late Sohn Kee-chung, the late Kim Seong-jip, the late Seo Yoon-bok, the late Min Gwan-sik, Jang Chang-sun, the late Kim Un-yong, Yang Jung-mo, Park Shin-ja and Kim Yu-na.
Jong-Seok Kim kjs0123@donga.com