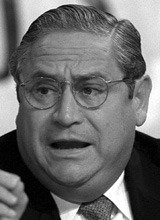 Former Salvadoran President Armando Calderon Sol has died at the age of 69 after a battle against cancer. The National Republican Conservative Party (ARENA), a right-wing faction led by the former president, confirmed his death on Monday and said, "It is a very sad day for El Salvador."
Mr. Calderon Sol, a former lawyer, was the first president elected in the country in 1992 after the end of the country's 12-year civil war. As many as 75,000 people died during the civil war. In 1992, ARENA signed a peace treaty with the leftist guerilla Farabundo Marti National Liberation Front (FMLN) and Mr. Calderon Sol executed the treaty until his presidency ended in 1999.
The former president was diagnosed with cancer last year. He received treatment in Houston in the United States after getting a surgery in the Salvadoran capital of San Salvador. The city announced that it will raise a flag at half-mast in order to commemorate his death.
Su-Yeon Kim sykim@donga.com