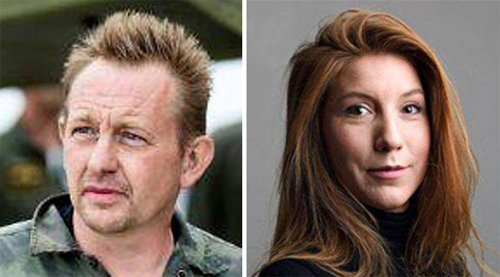 Kim Wall (age 30) was a fearless Swedish freelance journalist who reported from the civil war struck Sri Lanka to Haiti under restoration of damage inflicted by an earthquake, to Uganda and Cuba. On Sunday (local time), her body parts were found at a bay adjacent to Copenhagen, Denmark. It has been approximately two months since her headless torso was found after she went missing on Aug. 11.
Graduating the London School of Economics (LSE) and Columbia University's School of Journalism in the United States, Wall was an adventurous person who would visit the nuclear waste dump site in the middle of the Pacific Ocean and even sneak into North Korea to cover a case. However, she was found dead in waters a few kilometers away from a familiar village in Copenhagen, where she spent her childhood.
Two months ago, Wall went onboard the submarine "UC3 Nautilus" built by an eccentric Danish inventor, Peter Madsen (age 46) to cover a story but the submarine sank. Only Madsen made it alive. He initially claimed to have dropped Wall off at Copenhagen. However, Madsen changed his story and told the authorities that Wall died after hitting her head in the submarine and he sunk off the submarine out of guilt.
Nevertheless, according to the Copenhagen police on Saturday, Wall's head and legs were found in a bag deep under the ocean. There was a heavy metal pipe inside the bag and the discovered head did not show signs of fracture or violence, contrary to Madsen's claim. The police also discovered images of dead naked women whose bodies were damaged. While the exact cause of death has not been identified yet, Madsen denies the allegation of killing Wall.