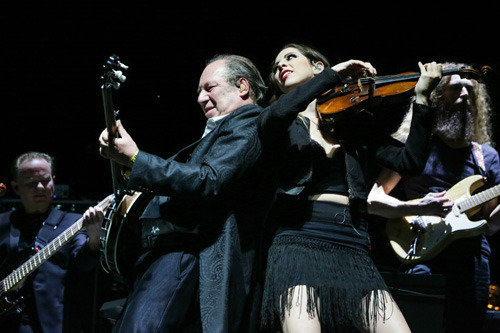 Film soundtracks play their role in the background of a movie. They rarely seek the limelight in the movie, being hidden behind the image and story.
In "Slow Life Slow Live 2017" held Saturday in Jamsil Olympic Stadium, however, original sound tracks became the main feature of the festival.
The festival was six and a half hour long including breaks, but exciting all along. The first part was a concert of the movie "La La Land." Music director Justin Hurwitz conducted the performance played by a jazz band participated in the sound recording of the movie. Music was played along the movie on the screen that ran for two hours.
On the monitor next to pianist Randy Kerber was a special metronome that displayed the number of measures and beats in real time. It was for a performance that perfectly fit with the image, which was a huge success. The musical performance was exquisite, whose highlight was a piano recital of Ryan Gosling. The music matched exactly with the fingers even in the movie scenes with varied tempos and beats, creating awe-inspiring moments.
The second part was performed by Hans Zimmer, a renowned German film score composer, was imageless yet dignified and charismatic. It was as subtle as classic orchestra, and as powerful as heavy metal. The concert started with calming melodies of "Driving Miss Daisy," and moved on to "Gladiator," "Lion King," "Pirates of the Caribbean," "Crimson Tide" and "Man of Steel." The finale was lively and well-constructed with the tunes of "Batman trilogy," "Interstellar" and "Inception."
There was, however, a fly in the ointment in the concert – the broadcast of the concert. Exclusive shots were given only to the conductor, keyboardist and bassist. Instead of highlighting instruments such as harps, vibraphones and flutes that led the performance in some songs, they chose to shoot a group of instrumental players, failing to convey a sense of immediacy with delicate screen structure and editing. It was a pity that instrumental players playing main tunes were not emphasized even in the concert of Hans Zimmer.