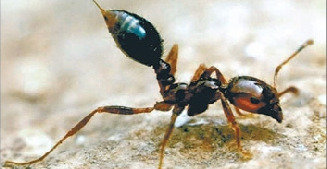 Red imported fire ants, which are also known as "deadly ants" caused nation-wide fear during the Korean Thanksgiving holidays. These venomous ants were first discovered on Sept. 28, right before the holidays began. Twenty-five fire ants were found at Busan's Gamman Port on that day and a nest capable of accommodating 1,000 fire ants was discovered additionally in the same place the following day. Accordingly, the government established a task force, consisted of six government agencies, to eradicate red imported fire ants.
Red imported fire ants are typical alien pests. They are also among the world's top 100 invasive alien species, designated by the International Union for Conservation of Nature. Red imported fire ants are aggressive, albeit small, and can wipe out native ants, becoming the dominant species. Fire ants can sting livestock in the eye and blind them, not to mention intruding into homes and biting people, which causes death by shock. It has been said that some 80,000 people are stung and 100 people are killed by these deadly ants on average annually in North America.
Red imported fire ants are native to central South America and first landed in the United States in the 1930s. Since then, the notorious pest has spread to the trade ports of the pacific rim including Australia (2001), Taiwan (2004) and China (2005). Following Japan in May, red imported fire ants have been discovered in South Korea, a "fire ants- free area," for the first time ever.
There was no sign that a large number of red imported fire ants have spread, said related authorities, which have sacrificed their holiday for close inspection. According to the first round of inspection against the Gamman Port of Busan, which was completed on Thursday, no additional ants were discovered. "A thorough inspection against Busan's Gamman Port on whether the red imported fire ants have spread shall be carried out with experts in relevant authorities," said a government official.