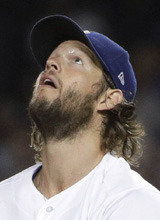 Here are what fans will pay attention watching semi-playoff games (the team winning three games first of the five games wins the title) between the Lotte Giants and the NC Dinosaurs in the 2017 KBO League season, which kick off on Sunday. The two teams both based in the South Gyeongsang region, which are also dubbed Gyeongnam (South Gyeongsang) Derby, the Nakdong-gang (River) Series and Buma (Busan and Masan) Derby, will also be a showdown between veteran manager Kim Kyung-moon (59) of the Dinosaur and rookie manager Cho Won-woo (46) of the Giants.
When only considering experiences in autumn baseball of the two managers, the game is a race between "Goliath" and "David," but no one can be certain about the outcome. Kim led his team to victory in the 2014 semi-playoffs where he made his debut as manager. The NC Dinosaurs have more experience as team than the Lotte Giants as well. The Dinosaurs have advanced to the post season events for four consecutive years starting 2014. On the other hand, the Giants have advanced to autumn baseball this season in five years.
The Dinosaurs are leading the Giants in experience, but the latter is in more upbeat mood. In the second half of this season, the Giants have made strides so significant that the team ranked second in winning ratio (0.684, 39 wins, one draw and 18 losses) among all teams in the league. Another positive development for the Giants is that the team has reversed its previous record of 1 win and 15 losses against the Dinosaurs to nine wins and seven losses this season. In contrast, the Dinosaurs, which were among the front-running teams halfway through the season, stumbled in the final games to close the regular season at fourth place. However, the team crushed the SK Wyverns 10-5 in a game to secure a wild card spot on Tuesday, and successfully switched the mood.
"Our team's strength is that the players, coaching staff and fronts are robustly moving forward towards our goal. We will demonstrate that the Lotte Giants are a team that is strong in the ballpark," said Captain Lee Dae-ho of the Lotte Giants, who Manager Kim singles out as a key player to be checked. "The semi-playoff games, which will take place in Busan and Changwon alternatively, is a major festival for baseball fans in the Busan and South Gyeongsang regions, we will play the games cheerfully," Lee said. He returned to the KBO League this season in six years after playing with the Japanese pro league and the Major League.