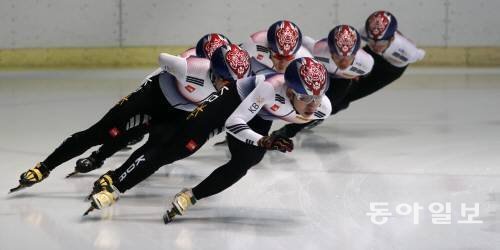 Team South Korea went off to a head start in a major international short track competition. Women lived up to their already high expectations, and men outperformed the expectations pinned on them despite weak start.
South Korea's national short track team dominated the ISU World Cup Short Track Speed Skating 2017/18, the first competition for the new season, winning six gold medals in eight games and raising hopes for the 2018 Winter Olympic in Pyeongchang.
On the last day of the ISU World Cup held in Budapest, Hungary, on Sunday (local time), South Korea's ace player Choi Min-jeong (19·Seongnam City Government) won the gold in women's 1,000 meters, keeping a comfortable lead against Elise Christie of England. Having won three golds in the 500 meter, 1,000 meter, and 1.500 meter events, Choi even ruled in women's 3,000 meter relay with Sim Seok-hui (20·KNSU), Kim A-rang (22·KNSU) and Kim Ye-jin (18·Pyeongchon High School), sweeping all four competitions.
In men's competitions, South Korea found new talents. Little known on international stage, Lim Hyo-joon (21·KNSU) and Hwang Dae-heon (18·Buheung High School) made vital contributions to every medal the men won in Budapest against some of the best speed skaters in the world. On Sunday, Lim beat Sjinkie Knegt from the Netherlands on the last spurt in men's 1,000 meter race to win one more gold for South Korea.
Winning two golds and one silver, Lim Hyo-joon is emerging as a dark horse for men's short track speed skating. Hwang Dae-heon, a high schooler, won two silvers and one bronze. Lim and Hwang boasted strong stamina and confident performance throughout all competitions. South Korea's short track players will attend the second leg of the ISU World Cup, which will start on Oct. 5 in the Netherlands.
Jae-Yeong Yoo elegant@donga.com