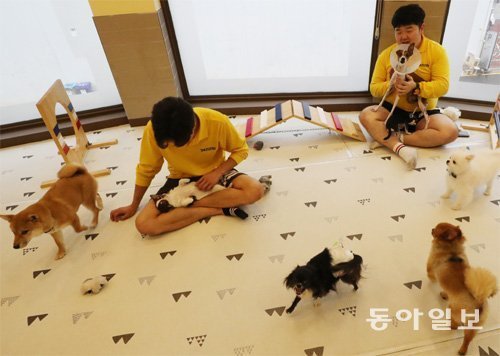 A 10-day-long holiday started on Monday. Fourteen rooms were all full, including two rooms soon to be occupied a day before Chuseok, in "Cattelier." The cat hotel in southern Seoul allocates one cat in one room, respecting cats' territorial instincts. For cats that prefer climbing up and down rather than roaming around, a cat tower (a vertical structure for cats) was installed in each room.
Animal hotels have a constant stream of guests as owners who travel in Korea or other countries seek a reliable pet sitter service during holidays. Cat hotels are sprouting along with growing number of single-person households, which prefer cats with an independent life style. Around 20 cat hotels joined the Korea Cat Hotel Association recently founded.
There are around 800 to 900 pet hotels (including dog cafes and animal clinics that provide pet hotel services) across the nation are advancing the service quality. A pet hotel named "Gaeleria" located in Gangnam-gu, Seoul was crowded with small and medium size dogs on Monday.
However, these high-end pet hotels often become the very place abandonment. Some pet owners do not pay additional fees even when the contract is over, or do not pick up their pet at all. Many hotels specify on the contract that they will assume the owners are abandoning their pet if they do not come back for a certain period of time after the contract expires. Hotel managers, however, are reluctant to send pets straight to a shelter, because the pets will have more possibility of getting euthanized than being adopted to a new home.
Jeong-Soo Hong hong@donga.com