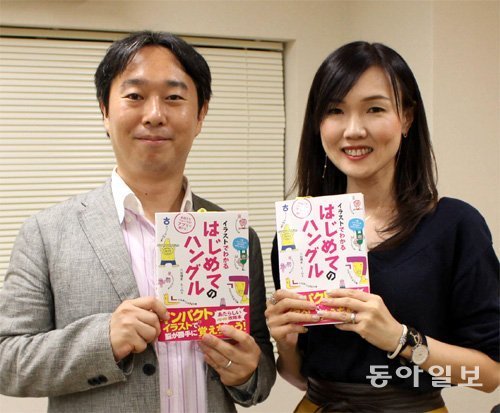 An event was held to celebrate on Saturday the publishing of a book entitled "Learning Hangeul (Korean alphabet) through Illustrations" at a lecture hall at Tokyo's Koreatown, Shin Okubo. Authors Yasushi Hatta (41) and Yukie Okama (47) are widely known as food and shopping specialists among fans of Korean culture in Japan.
The book features humorous and bizarre drawings to help learners to easily memorize the shapes of Hangeul characters. For example, the book presents the shape of a man's head wearing a wig to describe the letter "ㄱ," a bunny girl's cap to depict "ㅂ," and an animation figure spinning a panty to suggest "ㅃ" and "ㅍ." Every illustration comes with a story to enhance learning.
"The biggest barrier Japanese people encounter when learning Korean is unfamiliar shapes of Hangeul," Hatta said in explaining the reason for publishing the new book. Upon publishing in late August, the book ranked No. 1 Korean language-learning book in bookstores including Amazon.com.
Publishing the book was rather difficult for them. Hatta has written more than 20 books on hansik (Korean food) and the Korean language since the early 2000s. But after Korea-Japan ties deteriorated following then South Korean President Lee Myung-bak's visit to Korea's easternmost islets of Dokdo in 2012, the expert on Korean food didn't receive any requests from publishers. "Not a single plan to publish books about Korea was approved between 2013 and 2015," Hatta said, recalling the unfavorable situation at the time.
In late 2015, the mood started changing thanks to, among others, the Seoul-Tokyo agreement on World War II "comfort woman" for the Japanese military. Interest in Korean fashion and K-pop increased again in Japan, especially among teenagers, and people began to flock anew at Shin Okubo, which had been boycotted.
"We stopped publishing Korean learning books from 2013. But we came to plan a new book as we found people buying Korean learning books again from last year," said Miki Kamei of Dakahashi Bookstore. "Since the new book received positive reviews among our employees, we printed 11,000 copies and it is selling briskly and earning good responses."
Won-Jae Jang peacechaos@donga.com