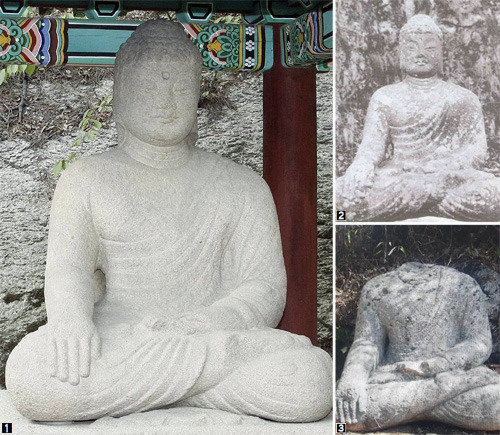 In addition to Seokjoyeoraejoisang (sitting stone Buddha statue), there are more cultural assets within the South Korean presidential office complex. Most of them are relics and building structures from the Joseon Dynasty, since the presidential complex is adjacent to the Gyeongbokgung Palace, the main palace of the dynasty.
Back in 2007, the presidential secret service published a book entitled "Historical Cultural Properties in and around Cheong Wa Dae." The book suggests the rock with inscription reading "the most blessed spot on earth" on it, which is sitting behind the presidential mansion, is believed to have been placed there around 300 to 400 years ago. This indicates that the Cheong Wae Dae area is one of the most ideal sites according to feng shui.
Chimryugak (Seoul City's tangible cultural property No. 103), a royal building built in 1905 during the Korean Empire era, was sitting at the site of the current presidential residence, and was relocated near Sangchunjae building when the presidential residence was rebuilt in 1989. The name of the building "chimryu" means "using steaming water as pillow," which implies that the site was a place for appreciating arts and entertainment.
Sang-Un Kim sukim@donga.com