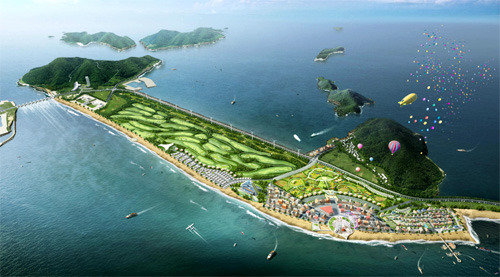 Marine recreational facilities as big as 275 soccer fields will be built in Saemangeum by 2028. The Saemangeum Development and Investment Agency has signed "Shinsi~Yami Tourism and Leisure Sites Development Agreement" with Boseong·Hanyang consortium on Thursday, the development agency said.
The Shinsi~Yami Tourism and Leisure Sites Development is a project that constructs accommodations, recreational facilities and commercial facilities on 1.93 million square meters of reclaimed land between the islands of Shinsi and Ami. A total of 361.3 billion won will be invested in this project and the construction is scheduled to start in 2018 and be completed by 2028.
The Boseong·Hanyang consortium plans to create construction lot by 2024 and build hotels, waterside shopping district and recreational facilities including Ferris wheel. After that, it aims to turn it into an international marine tourism and recreational complex by constructing a theme park, marina and resort, taking market conditions into consideration. Some 110 billion won including 88.5 billion won necessary for creating site will be invested directly and the rest will be raised from selling and leasing facilities, according to the consortium.
The Saemangeum development project is a 22-trillion-won government project that aims to build a complex city after creating 291 km² of reclaimed land inside the sea wall, which connects two areas of Gunsan and Buan in North Jeolla Province. The mega land reclamation project initially began in 1991 but suffered some setbacks as there were some oppositions to the project, expressing concerns that it might damage the environment. As a result, the construction was suspended twice. The project was finally completed in 2010, 19 years after it started construction, but failed to attract private investment. That is why the government established the Saemangeum Development and Investment Agency in 2014 to revitalize the development project. The Moon Jae-in administration has included Saemangeum development in its 100 state tasks.
Sung-Hwi Kang yolo@donga.com