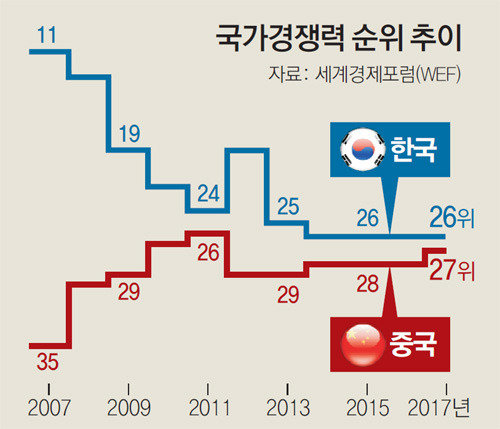 South Korea has ranked in 26th place this year again in the World Economic Forum's latest global competitiveness report. While South Korea's national competitiveness is on the downturn for a decade after rising to an all-time high of 11th place in 2007, China has leaped from 35th to 27th place over the period. Experts attribute this decline to the nation's some negative trends over labor unions, labor market, financial market development and policy instability.
In the global competitiveness report released on Wednesday, Korea places 26th out of 137 economies for the fourth consecutive year. When considering the fact that the number of nations subject to assessment has decreased by one compared to last year, South Korea has actually retreated. South Korea's labor sector has been pointed out as the key element that downgraded South Korea's national competitiveness. Among the 23 categories that were assessed, the efficiency of the labor market stood at 73rd place. In particular, categories such as cooperation between the labor and management (130th place) and layoff expenses (112th place) ranked among the lowest in the world.
"It is one of the few advanced economies that have experienced a general decline in performance for a majority of its pillars of competitiveness. For an advanced economy, however, the country still presents large disparities between pillars," the report said. "Another area in which Korea consistently underperforms is labor market efficiency, in which it ranks 73rd."
Developing economies including China are catching up at a fast pace and threatening South Korea's position. Indonesia and Vietnam has shown remarkable improvement this year, jumping to 36th by 14 notches and 55th by 20 notches over the past five years, respectively.
"We will make efforts to reform economic structure in a way that reinforces labor market dynamics," said the Ministry of Strategy and Finance. Still, there are concerns that improving national competitiveness is not going to be easy realistically in a situation where the government pushes forward increasing the minimum wage and abolishing the two controversial guidelines on labor.
Jun-Il Kim jikim@donga.com · Hye-Ryung Choi herstory@donga.com