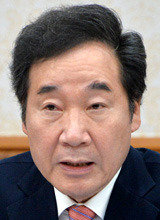 Prime Minister Lee Nak-yeon talked about the decision of the Moon Jae-in administration to provide humanitarian aid to North Korea in an interview with the Asahi Shimbun on Saturday. "The South Korean government will not provide the aid right now, nor will it send cash to the North," Lee said. "It is an exaggeration that the aid will facilitate North Korea's nuclear armament." The prime minister actively defended the administration's decision to provide eight million dollars to the North through an international organization against the criticism that the aid goes against the international community' policy toward North Korea.
"I hope people will understand the peculiarity of the situation that South Korea is facing," he said, citing that Seoul is only 50 kilometers away from the South-North Military Demarcation Line and experienced war around 60 years ago. He emphasized the government's stance to continue on with the dialogue with North Korea even amid growing tension on the Korean Peninsula.
During the interview, Lee suggested Japanese Emperor Akihito to visit Korea, saying, "It will greatly help the development of Korea-Japan relations if he could pay a visit to Korea before he abdicates and resolve remaining issues between the two countries." Lee had worked as a correspondent in Tokyo for a newspaper and a vice chairman of Korea-Japan Parliamentarians Association when he was a member of the National Assembly. He is proficient in Japanese and well-versed in Japanese culture.
The Japanese Emperor and his wife visited Koma Shrine in Hidaka, northwest of Tokyo, on Wednesday to pay a tribute to descendants of the Goguryeo Dynasty, which is the first time for a Japanese emperor. Some analyze this gesture as reconciliatory. He is planning to abdicate at the end of next year or in March 2019.
Prime Minister Lee showed his determination to push ahead with the emperor's visit to Korea, saying, "Next year marks the 20th anniversary of the Joint Declaration of New South Korea-Japan Partnership for the 21st Century by former South Korean President Kim Dae-jung and former Japanese Prime Minister Keizo Obuchi."
The emperor spoke of his wish to visit Korea several times, but it has not been realized yet. Whether he could pay a visit is still up in the air due to the procedure for state visits that takes around six months to a year for preparation as well as the anti-Japanese sentiment among some Koreans.
Keun-Hyung Yoo noel@donga.com · Won-Jae Jang peacechaos@donga.com