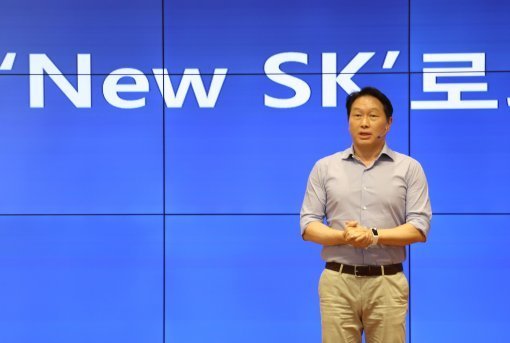 Semiconductor industry insiders said, "SK Chairman Chey Tae-won's bold bet has worked after all," upon hearing the news that a consortium of South Korea, the U.S. and Japan became the successful bidder in the acquisition deal on Wednesday. Chey jumped into competition to take over the memory chip business in February this year. It came soon after SK took over LG Siltron, a specialized producer of wafers as semiconductor material, for 620 billion won (549 million U.S. dollars). As soon as his travel ban was lifted on April 19, Chey went to Japan five days later, and started taking the lead in his company's bid to acquire Toshiba.
He faced a bumpy road ahead from the beginning as Toshiba's memory chip business was too big in scale. Since the sale price amounted to over 20 trillion won (17.7 billion dollars), SK Hynix formed a consortium with a private equity fund, U.S. IT companies and Toshiba Holdings. SK had to handle more hurdles as Toshiba was reluctant to sell off the business and internally hoped for its independent survival, let alone legal dispute between Western Digital and Toshiba. The South Korea-U.S.-Japan consortium was singled out on June 21 as the preferred negotiating partner, but Toshiba abruptly changed its stance in July, and started holding negotiations with other bidders from the U.S. and Taiwan. "I believe that there there is a will, there's a way," Chairman Chey told reporters at the time, in expressing his determination not to drop his bid. However, the situation went from bad to worse on August 24, when the Western Digital-led consortium even became the preferred negotiating partner.
Up until Wednesday morning, it looked almost as if Western Digital was to become the successful bidder as it proposed "give-up of voting right." Nevertheless, the news that the South Korea-U.S.- Japan consortium became the final successful bidder spread widely from Toshiba's Board of Directors in the afternoon, ending the eight-month drama of a roller-coaster mega business deal.
SK's latest acquisition will have quite a significant impact. In the global NAND flash memory chip market in the second quarter of the year, Samsung Electronics ranked first, Toshiba second and Western Digital third, at 38.3 percent, 16.1 percent and 15.8 percent, respectively, according to the market survey firm HIS.
Mathematically, if SK Hynix and Toshiba merge after the acquisition, the combined company will see its global market share jump to 26.7 percent, ranking No. 2. If its market share is combined with Samsung's, the two Korea-based companies will control 65.0 percent of the global sales to effectively dominate the global NAND flash memory chip market. Thanks to SK's latest acquisition, Korea is expected to have huge influence on global IT enterprises including Google and Intel, which heavily depend on memory chips for their business.
Eun-Taek Lee nabi@donga.com · Won-Jae Jang peacechaos@donga.com