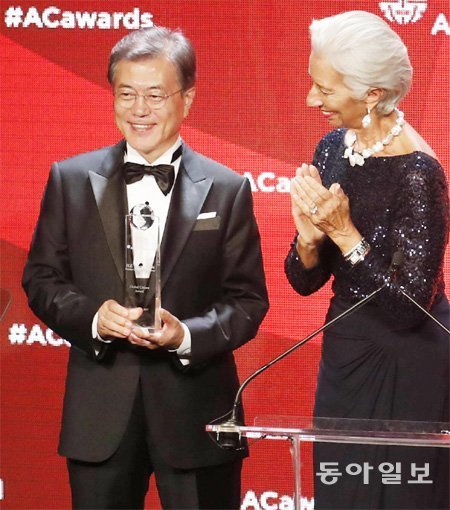 "I want to tribute this prize to the people who raised candlelight amid freezing weather throughout last winter," President Moon Jae-in said when receiving the "2017 Global Citizen Award" at the Intrepid Sea, Air & Space Museum in New York, the U.S. on Tuesday (local time).
"I became the president amid the public's aspiration to inherit the spirit of candlelight vigils," he added. "Citizens who staged the candlelight vigils deserve the Nobel Peace Prize as they showed the world the power of peace and presented glimmers of hope for global democracy in crisis."
"The people of the Republic of Korea demonstrated to the world the principle that 'all the (ruling) power derives from the people in a democratic republic,' and told me that the president is also one of the citizens," Moon said. "I believe that time will come when we will achieve peace on the Korean Peninsula," in expressing his commitment to resolve the North Korean nuclear issue.
Featuring at the award ceremony was video clips showing images of candlelight vigils in Korea staged last year, and key moments through 100 days since President Moon's inauguration. On the same day, the president and Canadian Prime Minister Justin Trudeau, another recipient of the prize, held a meeting where they agreed to join forces to fundamentally and comprehensively resolve the North Korean nuclear issue, South Korean presidential spokesperson Park Su-hyun said.
Keun-Hyung Yoo noel@donga.com