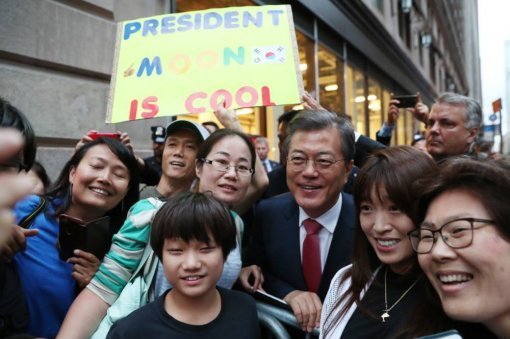 "Of course, South Korea and the U.S. cannot have completely same positions. (However) the ties are iron fist," President Moon Jae-in said commenting on the two allies' cooperation against North Korea's nuclear weapons. President Moon has refuted controversy and concern raised by those who suspected over the two countries' differences in stance, such as South Korea passing in solutions to the North Korean nuclear issue.
Visiting New York to attend the United Nations General Assembly, President Moon replied to a question by a participant, who raised concern about dispute between Seoul and Washington, at a meeting with Korean Americans on Monday (U.S. time), by saying, "That is absolutely not the case." The president said, "South Korea-U.S. collaboration is truly iron fist not only in the alliance per se but also countermeasure to the North's nuclear weapons and missiles."
President Moon also mentioned issues over which Seoul and Washington have differing views including the Korea-U.S. free trade pact, and sharing of defense costs for the stationing of U.S. troops in the South. "For military bases for the U.S. Forces stationed in Korea, which serve interests of both countries, there could be controversy over the cost of keeping U.S. military forces in South Korea," the president said. "There can be controversy to secure more interest over the free trade agreement, and differences at such degrees are natural and reasonable. I think such differences in their stances are helpful to develop the Seoul-Washington relations into stronger ones." He has expressed intention to collaborate with the U.S. on North Korean nuclear issues and other affairs, but announced that his government will confidently negotiate with Washington over the trade pact and other issues.
President Moon also emphasized equal relationship between South Korea and the U.S. "Since the South Korea-U.S. relations are robust, you don't need to worry about them. We are developing the ties from unilateral ones into relations of equals in which South Korea also plays its part," Moon said, "In the past, we had the U.S. to fully take charge and we just followed, but now we are taking the lead in having resolutions pass the U.N. Security Council." He made the remarks in tune with the theory of South Korea taking the driver's seat in the Korean Peninsula (affairs), which he has been stressing since his inauguration.
weappon@donga.com · alwaysj@donga.com