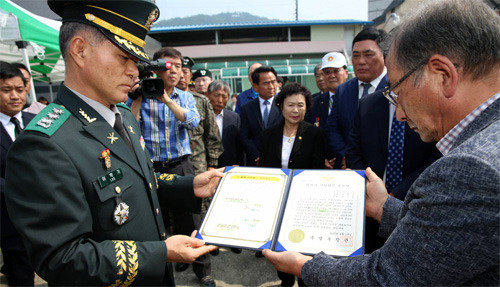 Han Jin-hong, who died while joining the military as guerilla fighter in the Korean War, has returned to his family in 66 years.
The Ministry of National Defense Agency for KIA (Killed in Action) Recovery and Identification held a returning ceremony for delivering his remains to his son Han Yoon-sik Tuesday. The identity confirmation report, consolation award delivered by the defense minister and the article left were also delivered. "It is the first time that a war dead of a guerilla fighter was confirmed since the launch of the defense ministry unit in 2000,"a Defense Ministry official said, Han is the 122nd return as a military soldier of the Korean War.
Han was born in 1930 in Gyeongju City in North Gyeongsang Province as the eldest son among two sons and four daughters. He got married in March 1950 and joined the guerilla fighter unit in January 1951 when he was living with his wife and son. In February that year he was shot by the enemy's bomb during a suppression attack against North Korean partisan at Mt. Seorak in Gangwon Province.
A mountain climber's reporting decisively contributed to Han's return. In November last year, the mountain climber was going up to the Baekdudaegan Mountain Range when he discovered a dead body near the peak of Mt. Seorak, and posted it on an Internet blog.
Seo Il-kwon, an exploration officer at the KIA (Killed in Action) Recovery and Identification unit, posted a message at the blog to contact the mountain climber and that was when the details of the location and corpse status were identified. Then the unit went to the site and collected the skeletons of the head, arms and legs exposed on the rock. Eyeglasses, fountain pen, key chain linked with a shoehorn, buttons were also found. As the body's DNA matched the DNA that Han's son submitted to a health center in Hapcheon-gun in November 2014, the unit carried out an additional comparison examination and the identity of Han was confirmed finally.
"Grandfather looked for my father all his life around the country. My mother raised me alone while longing for my father and died of cancer in 1973, Han's son said, "I'm really happy that we could at last find his remains and I really appreciate the military authorities."
"Han will be buried at the Seoul National Cemetery after consultations with the bereaved family," said Lee Hak-ki, head of corpse discovery unit. "Some 123,000 soldiers are still buried on mountains and lands. We will do our best so that these people who devoted their life for the country return to their family."
Sang-Ho Yun ysh1005@donga.com