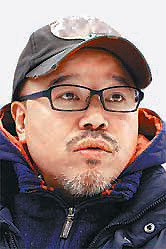 At an interview with Korean cartoon writer Yoon Tae-ho held at the Opera City in Tokyo on Saturday, he seemed excited after being honored as the winner of the Excellence Award at the Japan Media Arts Festival for his work "Incomplete Life." Yoon appeared on the stage with translator Furukawa Ayako and Kim Seung-bok, the CEO of Korean publisher Kuon.
The comic book was published in Japan last year and has received high critical acclaim for its "Korean yet still resonating many implications for Japanese young people" and "great storytelling structure." Panelist and comic book writer Inuki Kanako met Yoon after the award and said, "I was impressed by the TV series, and never hesitated to give high points when your work appeared on the list." The TV series based on the comic book was aired as a remake version during the golden hours at Fuji TV last year.
"At first, I was worried whether the issue of contract-based employment would resonate well amid different circumstances. However, the theme seemed to throw the question to the Japanese, whether they were going in the right direction," Yoon said. "My work was even mentioned on an op-ed in the Yomiuri Shimbun." Still, localization met few barriers, such as translating numerous Go terminologies differently used between the two countries. Yoon laughed when he said that "since the word 'incomplete life' is not commonly used in Japan, there were ideas about changing the title, but I was very persistent about the title."
Won-Jae Jang peacechaos@donga.com