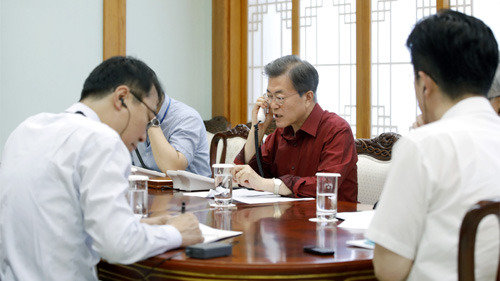 "We should increase pressure on North Korea so that the North Korean regime realizes that it will enter the path toward collapse as Pyongyang continues provocations."
President Moon Jae-in held his fifth call since his inauguration with U.S. President Donald Trump on Sunday and reached agreement to that effect. President Moon mentioned path to collapse meaning the demise of the Kim Jong Un regime, as he shared consensus with the Trump administration, which has been angered by the North's provocations. Ahead of his departure to the U.S. to attend the U.N. General Assembly on Monday, President Moon said, "I feel tremendous burden as I am heading to the U.N. General Assembly meeting." His remarks are apparently reflection of his stuffy feeling as he is in dilemma sandwiched between the Trump administration that is emphasizing military options and Pyongyang, which continues its nuclear stampede.
In his call with President Trump on the day, President Moon thanked the U.S. president for his cooperation to allow South Korea to reinforce high-tech weapons, which implies that the two leaders talked about South Korea's purchase of U.S. high-tech weapons and technology transfer to the South to cope with the North's nuclear weapons and missiles. Insiders and outsiders of the South Korean military say that the SM-3 missile capable of intercepting North Korean missiles could have been mentioned in their discussions.
While Washington has started placing more weight on military options again in the wake of the North's additional provocations, President Moon emphasized anew peaceful resolution on Sunday. In his statement on ratification of Supreme Court Chief Justice nominee issued on Sunday afternoon, President Moon said "I will make more efforts than any time ever to keep South Korea's national interest and to ensure peace and prosperity on the Korean Peninsula and in Northeast Asia."
Against this backdrop, the North's official Korean Central News Agency openly blasted the South Korean government on Saturday. While Washington and Tokyo are expressing concern over the Moon administration's intent to provide 8 million U.S. dollars in humanitarian aid to the North, Pyongyang continues to make provocations of blasting Seoul day after day, saying, "The South Korea's policy toward North Korea is no different from the conservative government's policy focused on hostility."
It appears that the presidential office intends to find a breakthrough through diplomatic efforts to address the North's nuclear issue at the upcoming U.N. General Assembly. Watchers say that President Moon could discuss dispatch of a special envoy to the North among other measures during his meeting with U.N. Secretary General Antonio Guterres. President Moon is seeking to find a breakthrough in diplomacy over the North Korean nuclear weapons, which is in limbo, through expanded roles of the U.N. "President Moon also had long talks with former U.N. Secretary General Ban Ki-moon about diplomatic resolution through the U.N. on September 11," a source in the presidential office said.
weappon@donga.com · sunshade@donga.com