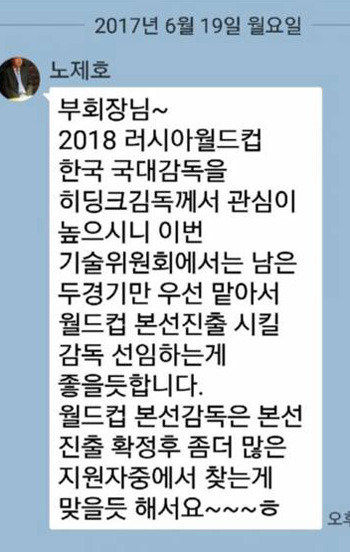 The controversy over former Korean national football team head coach Guus Hiddink is getting worse. Kim Ho-gon, vice chairman of the Korea Football Association and the head of its technical committee, and Guus Hiddink Foundation Secretary-General Roh Je-ho are now fighting over who tells the truth.
Hiddink and Roh called a press conference on Friday in Amsterdam, the Netherlands. Roh told reporters that in June he sent a message indicating that Hiddink expressed his willingness to coach South Korean football team to Korean football leadership. Roh sent the message on June 19 and Kim was appointed as the vice chairman on June 26. Back then, Kim was a senior official of the association but he did not have authority to appoint the head coach. "Roh sent two more messages asking to meet but Kim did not have any reason to meet him," the association said. "It was difficult to consider appointing a foreign coach just two months before the final preliminary round due to lack of time in identifying characteristics of players. In addition, we already decided to send the coach of preliminary round to the finals."
The controversy began right after South Korea clinched a spot at the 2018 FIFA World Cup for nine consecutive times against Uzbekistan. A news media reported on Sept. 6 that Hiddink expressed his willingness in June to coach the national team and Internet users supported his return. When asked about appointing Hiddink as the coach of Korean national football team on last Thursday, Kim said that he did not hear anything on this matter and no one contacted him, which sparked the controversy.
Kim belatedly disclosed a mobile message from Roh suggesting that Hiddink would willing to coach the national team, but most soccer fans are cynical about the Korean Football Association. Many people left online comments on related articles such as "Kim changed the words" and "A proposal delivered via a mobile messenger should also be considered seriously." Some even argue that soccer fans should raise funds to hire Hiddink as the association did not do anything. "The association has a faith in current national football team coach Shin Tae-yong who led the team to advance to the World Cup finals despite difficult circumstances and devoted everything including his professional career," Kim said. "The association is always willing to accept help from those with skills and experiences including Hiddink."
Guus Hiddink said he wants to contribute to South Korean football team in some way. While visiting Moscow to watch the match between South Korea and Russia on Oct. 7, the former coach is expected to meet Shin. Hiddink served as the head coach of the Russian national football team from 2006 to 2010 and still has close ties to Russian football officials. "The meeting will be certainly made, but his role and position should be further discussed," the association said.
Seung-Kun Lee why@donga.com