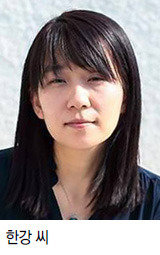 Korean writer Han Kang has been chosen Thursday as the winner of this year's Malaparte Prize, which is a renowned Italian literary award, for her novel "Human Acts."
The Malaparte Prize was launched in 1983 to honor Italian writer Curzio Malaparte (1898∼1957) who is known for his literary works such as "Coup D'etat: The Technique of Revolution" and "Kaputt." Alberto Moravia, an Italian writer and a big name in Italian literary circles, led foundation of the Prize that has since then recognized writers who are internationally acclaimed. Previous winners include Nobel laureate Saul Bellow of the U.S., Nadine Gordimer of the Republic of South Africa, Michel Tournier of France and Susan Sontag of the U.S.
"Human Acts" tells a story of middle school student Dong-ho who loses his life and people around him by a martial law army during the May 18th Gwangju People's Uprising. The writer moves from perspective to perspective to describe a painful agony and sadness in a sorrowful but calm narrative. Along with Han's Man Booker Prize winning novel "The Vegetarian," the book was caught up in controversy when it was excluded from the Sejong Book project through which the government chooses recommended books to be placed in public libraries and provides assistance. Han's books were reportedly classified as "problematic books" by the government.
The Malaparte Prize committee said, "Lively and vivid images throughout 'Human Acts' will stimulate readers' appetite and it is a true page-turner."
Italian publisher Adelphi recently published "Human Acts" under the title "Atti Umani." It is a translation of an English edition translated by Deborah Smith (30) who also translated "The Vegetarian." It has been told that the committee read the translation of the novel before it was officially published in Italy and chose Han as the winner.
The awards ceremony will be held on October 1 at the Island of Capri near Naples, where Malaparte stayed. Han will meet with local journalists and people in literary circles at the Naples City hall on September 30, and introduce her titles such as "Human Acts" and "The Vegetarian" and talks about her literary world. She also plans to meet Italian readers at La Feltrinelli bookstores in Naples, Rome and Milan. Since its publication in Italy last year, "The Vegetarian" has reportedly received good reviews by Italian readers.
Hyo-Lim Son aryssong@donga.com