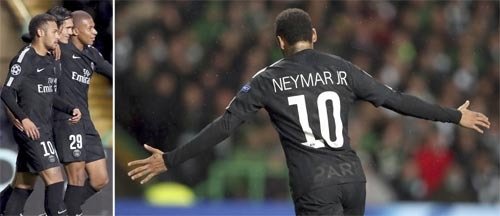 Paris St-Germain (PSG) had an emphatic 5-0 win over Celtic in the UEFA Champions League group-stage opener on Wednesday. Neymar led PSG to the victory at Group B match at Celtic Park with the first goal and one assist, while Kylian Mbappe solidified the lead with the second goal. Edinson Cavani scored the third and the fifth goals.
PSG has been the reigning champion in its domestic league since Qatar Sports Investments took the club over in 2011, grabbing championship for four consecutive years. However, the club has been less competent in the UEFA Champions League, in which leading clubs from the world's five major leagues (England, Spain, Germany, Italy and France) participate. PSG advanced to the finals for five consecutive years until last season, but it had been able to go no further than quarter-finals.
After declaring its commitment to becoming one of the top-class clubs capable of winning the UEFA Champions League title, PSG signed Neymar for 222 million euros in a world-record deal before this season started. In addition, the club is to make the deal permanent next summer for a whopping 180 million euros to embrace Mbappe from AS Monaco, while retaining Cavani, last season's top goal scorer.
Seung-Kun Lee why@donga.com