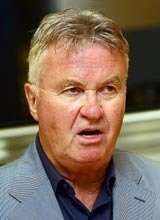 Korean national soccer team was able to qualify for the ninth straight time World Cup by default, to which online communities are heating up on the re-scout issue of Guus Hiddink who had led Korea advance to the semifinals at the Korea-Japan World Cup in 2002.
After former national soccer team manager Uli Stielike stepped down in late June, Hiddink at the Confederations Cup in Russia is known to have expressed intentions to become manager if Korean people want him. Fans then said that Korea should bring him in immediately with some even saying he has to be brought in on a personal plane. However, others opposed by saying Korean soccer is poisoned chalice, while some saying Hiddink should remain as a legendary figure.
With Shin Tae-yong currently heading the national soccer team, it is unlikely that Hiddink will stand out and say he can manage the team. It is internationally out of courtesy that someone would express willingness when there is an incumbent coach. "It is our basic direction to actively support Shin-led national team to upgrade their competitiveness during the remaining nine months until World Cup," the Korea Football Association also said Wednesday. "When Shin arrives in Korea, we will analyze problems from the two recent games and look for ways to improve."
Jong-Koo Yang yjongk@donga.com