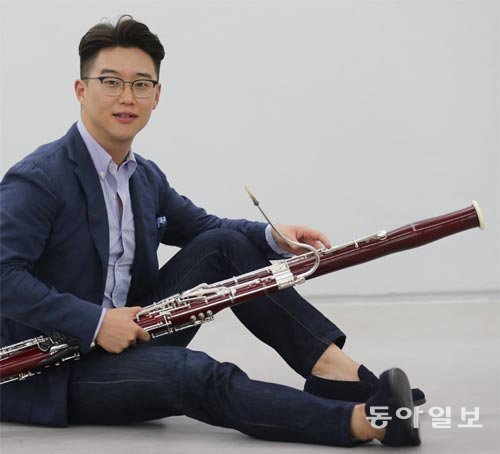 Yoo Sung-kwon is a senior bassoonist at the Radio Symphonie Orchestra Berlin and also a sole Asian. Other orchestra musicians are even trying to keep him from leaving for other orchestras. A Dong-A Ilbo reporter met him at a cafe in central Seoul.
In 2009, Yoo applied for an academy audition at the Radio Symphonie Orchestra Berlin whose members recommended him to join the orchestra after listening to his play. Some 180 people applied for a senior bassoonist position, and after six fierce competitions Yoo came to officially join the orchestra.
In 2011, he acquired a permanent position at the Radio Symphonie Orchestra Berlin until age 67. Bassoonists in the orchestra are comprised of two seniors, one associate and two members, and one senior position has been absent for eight years. This means that Yoo has huge weight in the bassoon part in the orchestra.
The 29-year-old bassoonist is also giving lectures at Universität der Künste Berlin as non-permanent and hopes to become a full professor there. As a musician, his goal is to become a musician like pianist Paik Kun-woo.
Dong-Wook Kim creating@donga.com