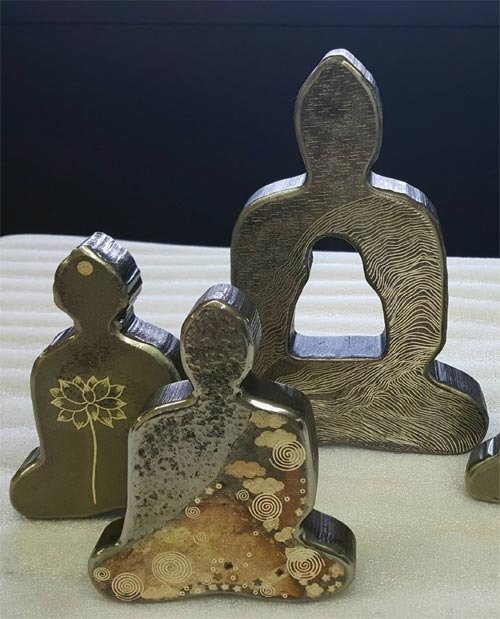 Can silk embroidery be this beautiful?
An exhibition by thread embedding art master Lee Gyeong-ja, Intangible Cultural Asset No. 19 of Gyeonggi Province, will be held starting from Sept. 11 at Dongguk University Museum in Seoul.
Thread embedding is a way to express various shapes with gold or silver threads on the surface of metal or accessories. It has long been on the Korean Peninsula as a good example of the method is Seven Branched Sword of the Baekjae Kingdom in the 4th century, which is now in the Isonokami Shrine in Japan.
As a disciple of Lee Hak-eung (1900-1988), the last master of thread embedding of the Joseon Dynasty, Lee has restored some 200 pieces of gold and silver-thread embedded relics since 1984. She exhibited her art pieces in Korea, the Korean Culture Center in Japan and the Powerhouse Museum in Australia. Her signature piece "108 Nirvana" is in Leeum, Samsung Museum of Art.
She will exhibit around 100 pieces ranging from Buddhist accessories to various daily supplies. The head of the Museum said, "Korea's thread embedding art is considered the best in East Asia, but its existence is threatened as it is difficult to produce one and has little demand," said the head of the museum. "You can feel the power of embroidering the nature with heart in the pieces of Lee who showed the outcome with the highest perfection based on her perseverance."
The exhibition will continue until Sept. 22 except Sundays. For further information, please contact at 02-2260-3722.
Yang-Hwan Jung ray@donga.com