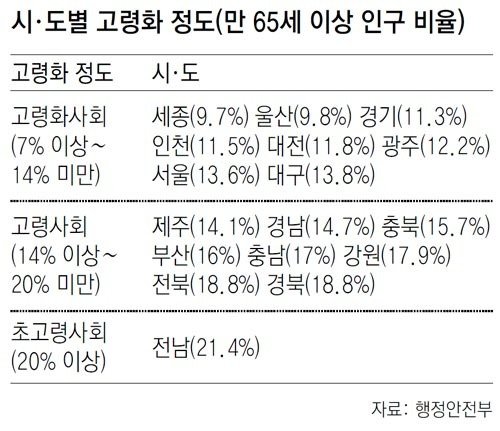 Korea has now passed the threshold of an aged society in just 17 years after entering the phase of an aging society in 2000.
According to the statistics released by the Ministry of Public Administration and Security on Sunday, ages 65 and over took up 14.02 percent, or 7,257,288 among a total of 51,753,820 registered residents as of late August. The United Nations defines aging society as where over ages 65 and older take more than seven percent, over 14 percent for aged society, and more than 20 percent as super-aged society. Meanwhile, population over the age of 65 saw an incremental rise from 10.2 percen in 2008 to 12.2 percent in 2013 and 13.5 percent in 2016.
Aging has shown distinct differences per regions. Among the 17 metropolitan governments, South Jeolla Province was the only superaged society, showing 21.4 percent of over 65 years olds. In addition, eight cities fell into the aged society, including North Jeolla Province (18.8 %) and North Gyeongsang Province (18.8 %). Another eight cities were aging societies, with Sejong (9.7 %), Ulsan (9.8 %), Gyeonggi Province (11.3 %), and Seoul (13.6 %). As provinces showed faster aging than cities, provinces except Gyeonggi were categorized as aged societies. Furthermore, there were no metropolitan governments showing less than 7 percent of ages over 65.
As of late August, the number of registered residents rose by 8,872 (or 0.02 %) month-on-month. Eight metropolitan governments including Gyeonggi Province saw a rise from July, while nine other cities and provinces fell. Among the total registered, there were 51,257,149 (99.04 %) residents, 442,464 (0.86 %) unidentified residents, and 54,207 (0.1 %) expats. The total number of households jumped by 32,340 to a total of 21,514,559 in a month. An average of 2.41 people consisted a household.
Yu-Jong Lee pen@donga.com