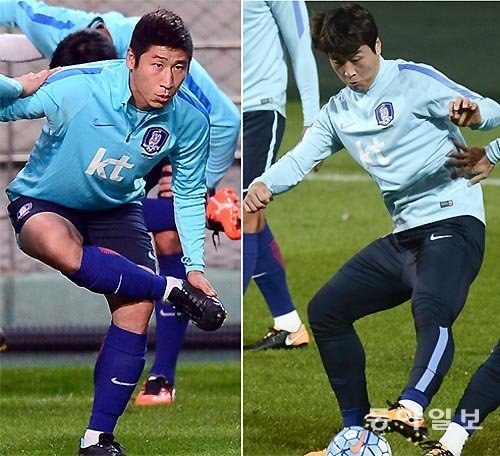 Lee Dong-gook and Lee Keun-ho, a veteran duo of the Korean national soccer team, were preparing for their decisive battle at the training sessions at Bunyodkor Football Academy in Tashkent, Uzbekistan.
A win over Uzbekistan on the final qualification round scheduled to be held at 12 a.m. on Tuesday will send South Korea to the Russian World Cup regardless of other results of Group A to which the country is belonged.
Lee Dong-gook scored four goals against Uzbekistan, scoring the most among the national soccer team members, while Lee Keun-ho scored two goals. At the games the combo played together, Team Korea won three times and tied once against Uzbekistan. South Korea has the upper hand over Uzbekistan in terms of previous records with 10 wins, three ties and one lose.
The combo eagerly hopes for the team to make it into the World Cup finals. Just three months before the 2006 Germany World Cup, Lee Dong-gook failed to qualify for the national team due to injury. Lee Geun-ho was also unable to join the final list due to declined performance and lost chance to run in the European league, despite his good performance in the preliminaries for the 2010 South Africa World Cup.
National team insiders said that players such as Lee Dong-gook and Lee Geun-ho, in particular, encouraged by themselves to forget the loss to Iran as they still have the last chance.
Yun-Cheol Jeong trigger@donga.com