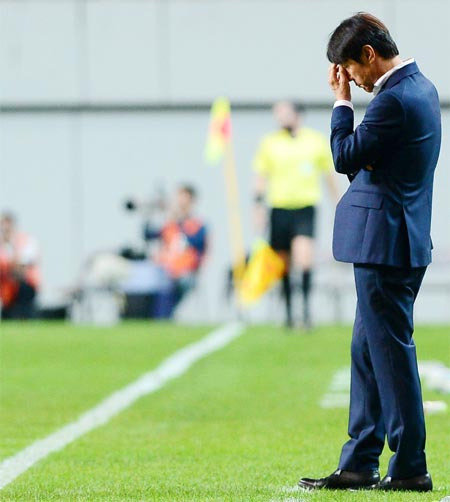 The fate of Korean soccer is on the edge of precipice in the wake of China's win Uzbekistan on Thursday. Team Korea has no choice but to nervously calculate the troublesome number of scenarios.
If Korea is to seamlessly advance to the World Cup finals, it has to win its last game against Uzbekistan. As Korea is currently ranked second in Group A in the final Asia qualifying round with a score point of 14, beats Uzbekistan, it could secure an overall score point of 17. If third-ranked Syria (12 points) beat Iran (21 points), Korea will also acquire a berth that is granted to the top two teams in a group.
If Korea ties and Syria beats Iran, Korea will be ranked third. Then, Korea will tie in overall score points at 15, but it will lag behind in difference in the number of goals. As of Friday, Korea and Syria have the same difference in the number of goals at +1. The difference in the number of goals will not change if the two teams tie, but the chance will increase if Korea wins. Team Korea can only advance to the finals once it wins a playoff match against the third-ranked place in Group B before beating the fourth-ranked team in the North, Central America, and Caribbean qualifying round, which truly will be a long journey.
If Team Korea loses, it cannot advance to the finals in nine consecutive events. Depending on the outcome of their match against Iran, Syria or Uzbekistan will take the second and third places, while Korea will slump to the fourth place.
Jong-Koo Yang yjongk@donga.com