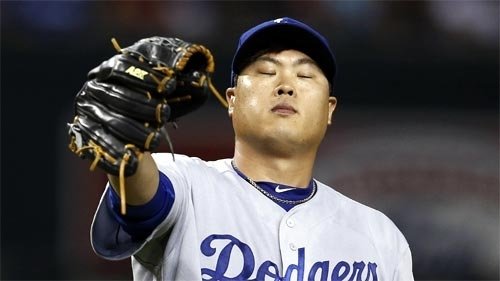 Los Angeles Dodgers' starter Ryu Hyun-jin on Wednesday (local time) failed in his attempt to have a sixth season win and leave a strong impression during his competition for his team's post-season starter position.
Ryu suffered his fifth defeat of the season after allowing eight hits, including three home runs, and six earned runs against the Arizona Diamondbacks. With a 4-6 loss, the Dodgers lost four games in a row for the first time this season.

The Diamondback's offense, which earned five scores in the first inning alone on the previous games, was fiery from the beginning of the game, ambitiously swinging bats at Ryu's first and second pitches. After two strikes, Diamondbacks hitters cut out-course pitches or waited. Having outed the leading hitter with a routine grounder at the bottom of the first, Ryu hurled a hanging curve ball at Adam Rosales, the second batter of the game, only to allow a homer that flew over the center fence.
"Ryu lost his concentration after allowing the home run to an unexpected hitter in the first inning," Major League commentator Song Jae-woo said. "Although he had been on an upward trajectory in the second half of this season, he lost speed even on his fastballs on today."
Jae-Yeong Yoo elegant@donga.com