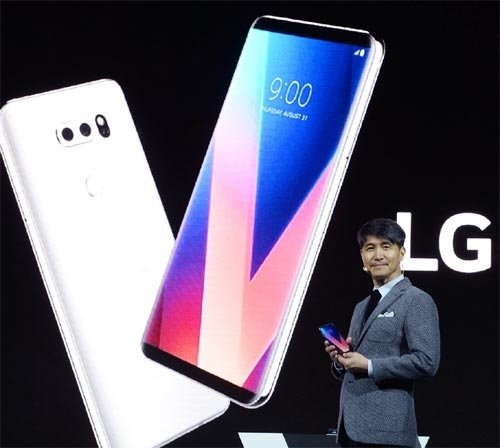 LG Electronics has unveiled the V30, its latest premium flagship smartphone, at the IFA 2017 consumer electronics show in Berlin. "I'm confident that the V30 has the highest capabilities among LG's premium smartphones," Cho Jun-ho, president of LG's mobile communications division, said in a press conference held in Berlin on Thursday.
The LG V30 is critical to the company in terms of timing. It is important whether the mobile communications division can make a turnaround with the V30. The business division has been running a deficit since the second quarter of 2015.
LG has made its best efforts for both functions and design. On the design side, the V30 is much lighter and thinner than the V20. Its 6-inch display, which is larger than the 5.7-inch V20, is lighter with shrunken bezels. It weighs 158 grams, 34 grams lighter than the V20's 192 grams. To attract female customers, pinkish lavender violet color has been added.
On the function side, it has upgraded the camera and audio capabilities, which the V-series has stressed. The LG V30 has also included various modes so that users can take pictures and listen to music like an expert. According to LG Electronics, scene modes by genre and music modes can be set in advance so that users can use the modes with a touch.
Having a competitive price must be an important factor. Users forecast that the price will be around 950,000 won (842.2 U.S. dollars) to compete with premium smartphones from Samsung and Apple.
Jae-Hee Kim jetti@donga.com